VOLUNTEER OF THE YEAR - Milledge Sheridan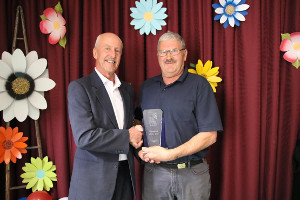 The Volunteer of the Year award was established to recongize one of the Nova Scotia Curling Community's greatest assets - our dedicated volunteers. The award is given annually to a member of the Nova Scotia Curling Association whose spirit and commitment to curling during the past season was exemplary.
Through their time and effort, these selfless individuals advance the sport of curling at their local club, on a provincial level or national level. They are our greatest ambassadors to potenitial curlers, partners and the world. They are the backbone of the curling community and with out them our sport would not run.
I am proud to announce that Milledge Sheridan is this year's recipient. On behalf of the members of the Bridgetown Curling Club, congratulations Milledge on this very deserving honour.
Tim Jackson
Last Updated ( Wednesday, 26 April 2017 )
Greetings from the Bridgetown Curling Club
The 2016-2017 curling season is underway. Our Ice Committee, as always, volunteer many hours of their time, getting the ice ready and throughout the season. Over the past two years the club has received much needed repairs and upgrades. It takes many volunteers to keep the Club operating, from the club executive, coordinators, and everyone who gives up their free time for fundraising and work parties. The Special Olympics, Evening, and Senior Leagues are all very active and we will once again be hosting bonspiels at the club and provincial levels.
The Bridgetown Curling Club, with members from Annapolis Royal, Bridgetown, and Lawrencetown areas is proud to serve these communities for over 90 years. Come give curling a try or just join us for some social time. Itís free to watch. You are more than welcome!
If you have a group or organization and would be interested in curling or using our facility, please contact us.
Tim Jackson
President
Last Updated ( Friday, 02 December 2016 )